HAPPY 10TH BIRTHDAY!
as cited in the June 7, 2006 O'Dwyer PR Newsletter.

ANDREW EDSON ON THE OPENING OF A SECOND OFFICE
as cited in the April 14, 2006 Long Island Business News.


ANDREW EDSON ADDRESSES THE GROWING CONVERGENCE
of investor relations and public relations in a September 2005 article in Investor Relations magazine.
EDSON ADDRESSES PINNACLE AMERICAS ON IR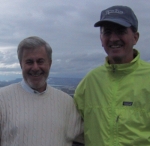 Andrew Edson journeyed to Portland, OR for a September 17, 2004 presentation on the firm's investor relations capabilities before a meeting of the Pinnacle Worldwide Americas partners' meeting. Pinnacle is an international partnership of over 50 public relations firms. He is seen here with Peter Morrissey (R), Boston counselor, who serves as the Pinnacle membership chair, at a post-presentation visit to the Columbia River Gorge.

MAXIMIZE TRADE SHOW PRESENCE
Andrew Edson describes how to maximize your participation at a trade show in an article from the Feb/Mar 2004 issue of Insurance Marketing.

NEW BOOK
Senior Partner Fraser Seitel's updated (9th edition) landmark book, The Practice of Public Relations was recently published. It is the most widely used college text dealing with PR.

CNN INSIDE POLITICS
Senior Partner Fraser Seitel discusses how government officials should handle themselves after a scandal.

DIVERSITY BOLSTERS ADVISORY BOARDS
Andrew Edson explains about Diversity in Long Island Business News (February 13, 2004) account.
SENIOR PARTNER FRASER SEITEL AND ACCREDITED HOME LENDERS RICK HOWE AT NASDAQ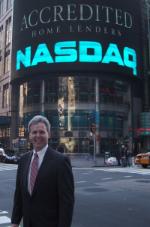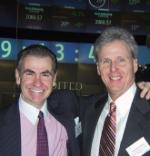 Senior Partner Fraser Seitel (L) joins Accredited Home Lenders' communications executive Rick Howe at the Nasdaq Stock Market in New York City on February 10, as the San Diego-based company opened the trading day. This fell on the first anniversary of Accredited being a publicly held company and not coincidentally marked the fact they were the hottest IPO in 2003. Accredited executive Rick Howe smiling in front of the Nasdaq MarketSite in Times Square in New York to help celebrate a special day for the nonprime mortgage lender.

EDSON NAMED IN WHO'S WHO IN PR
Andrew Edson was named in Long Island Business News' Who's Who in Public Relations. Read the article (PDF 97K)

THE NEW PR TOOLKIT
Andrew Edson is featured in this new book by Prentice-Hall. Read an excerpt (PDF 556K)

THE NEW YORK TIMES JAN. 26, 2003:
Entrepreneurs' New Dream: Buy Back the Stock (JPG 316K)

INVITATION OF THE WEEK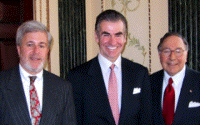 Senior Partner Fraser Seitel (center) offered a dozen Long Island company CEOs lessons on improving corporate reputation, at a November 26, 2002 luncheon hosted by Andrew Edson & Associates and The Blankman Group, Garden City, LI-based PR firm with whom a strategic alliance was created in September. The select meeting took place at New York Institute of Technology's de Seversky Center, Greenvale, LI, after A.J. Carter, Newsday columnist, called the event the invitation of the week. Edson (L) and Blankman flank Seitel.

NEWSDAY.COM
Only Long Island Firm to Land Silver Anvil Award...
SILVER ANVIL WINNER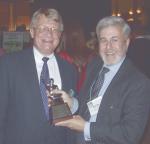 Andrew Edson (right) holds the public relations counterpart to the Academy Awards, which the firm won for its creative work in helping The St. Paul Companies launch its global cyberrisk study in 2000-2001. That study gave The St. Paul ownership of a space it coveted. Patrick Hirigoyen (L), senior manager / communications, The St. Paul, shares the excitement at a gala June 6 reception in New York City. Begun in 1946, the Silver Anvils, bestowed by the Public Relations Society of America, recognize and honor the most outstanding pr programs planned and executed each year.

NEWSDAY.COM
Edson has formed two strategic alliances


LONG ISLAND BUSINESS NEWS
Blankman, Edson join forces


LONG ISLAND BUSINESS NEWS
Edson teams with PR firm to aid Canadian expansion


HOMES REPORT
Edson Forges Alliance with Canadian Firm